What Were They Thinking? is a new meme hosted every Thursday at The Crowded Leaf.

The Rules: Post a book that makes you ask the infamous, "What Were They Thinking?" And explain WHY you are so turned off by the book. Is it the title? Plot? Cover? What don't you like? This is meant to be fun, so don't be offended if you go to someone's blog and your favorite book is their least. One blogger's trash is another's treasure. Join in and spread the love to judge!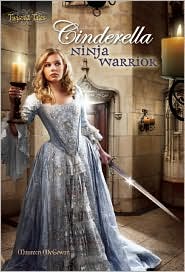 My Pick This Week: Cinderella: Ninja Warrior by Maureen McGowan 
Synopsis: In this fast-paced story full of adventure and romance, Cinderella is more than just a servant girl waiting for her prince—she's a tough, fearless girl who is capable of taking charge of a dangerous situation. Seeking to escape the clutches of her evil stepmother, Cinderella perfects her ninja skills and magic talents in secret, waiting for the day when she can break free and live happily ever after. In a special twist, readers have the opportunity to make key decisions for Cinderella and decide where she goes next—but no matter the choice; the result is a story unlike any fairy tale you've ever read!
What Were They Thinking? A NINJA CINDERELLA?!?! HAHAHAHAHA! Amazingly ridiculous. The synopsis is all great and lovely until you hit the word NINJA and then it's all over. I do like that readers can pick their endings, I used to love those books when I was itty-bitty. But seriously, Cinderella as a ninja? How does one do a roundhouse kick in a glass slipper?